Wayne Henderson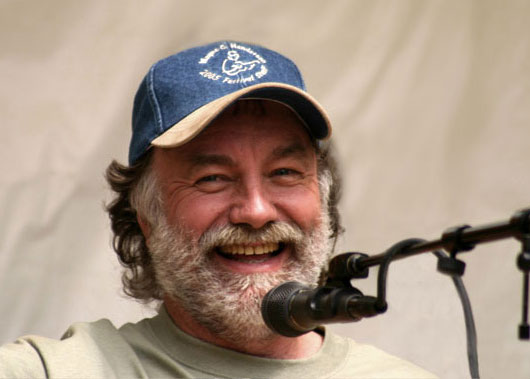 Wayne Henderson's top-notch finger-picking is a source of great pleasure and pride to his friends, family and neighbors in Grayson County, Virginia. His guitar playing has also been enjoyed at Carnegie Hall, in three national tours of Masters of the Steel-String Guitar, and in seven nations in Asia.
In addition to his reputation as a guitarist, Henderson is a luthier of great renown. He is a recipient of a 1995 National Heritage Award presented by the National Endowment for the Arts. He produces about 20 instruments a year, mostly guitars; he is almost as well-known for the mandolins he has made. Good friend Doc Watson owned a Henderson mandolin. He said, "That Henderson mandolin is as good as any I've had my hands on. And that's saying a lot, because I've picked up some good ones."
Some of Henderson's instruments are intricately decorated but are most respected for their volume, tone, and resonance. Blues guitarist John Cephas said that Wayne Henderson "is probably the most masterful guitar maker in this whole United States." There is a waiting list for Henderson's guitars made up of the famous (and not-so-famous).
Wayne was the 2014 convocation speaker at Appalachian State University in Boone. Read about it at www.news.appstate.edu/2014/09/05/wayne-henderson-2/ and view his talk on YouTube below
"Made & Played" CD Samples
Above and beyond his great talents as a musician and luthier, Wayne Henderson is known as a "friend to everyone" and shares his talents and knowledge unselfishly.
The Wayne C. Henderson Music Festival and Guitar Competition was established in 1995 to express appreciation for this living legend. A portion of the proceeds from the Festival are placed into a scholarship fund to aid local young musicians in continuing their educations. Through the 2018 festival, scholarships totaled more than $237,950.
Discography
Thumb to Thumb: The Museum Recordings: Wayne Henderson and Clay Lunsford (2014)
Rugby, VA: Wayne and Max Henderson (2013)
Live from Virginia: Wayne Henderson and Helen White (2009)
Wayne Henderson and Jeff Little at MerleFest, 4/24/09, Cabin Stage (FestivaLink, 2009)
Made & Played (Tucker Road, 2005)
Guitar Extravaganza: Wayne Henderson, Steve Kilby, Steve Lewis and Randy Greer (Two Guitars Music, 2003)
Les Pik (Hay Holler, 2001)
Masters of the Steel String Guitar: with John Cephas, Eddie Pennington and others (Arhoolie, 2001)
Not Much Work for Saturday: Wayne Henderson and Steve Kaufman (Hay Holler, 1996)
W.C. Henderson & Company (Hay Holler, 1994)
Rugby Guitar (Flying Fish, 1990)
Contest Favorites: Wayne Henderson and Robin Kessinger (Flying Cloud, 1989)
Guitar Pickin': Wayne Henderson and Ray Cline with Herb Key (Heritage, 1977)
DVDS
{Carter Fold Sessions}: Virginia Luthiers (CD plus DVD)(2013)
From Wood to Singing Guitar (Appalshop, 2009)
Books
Clapton's Guitar: Watching Wayne Henderson Build the Perfect Instrument, by Allen St. John
Bluegrass Guitar (tablature of 10 of Wayne's tunes), by David Ziegele
More from Wayne Henderson