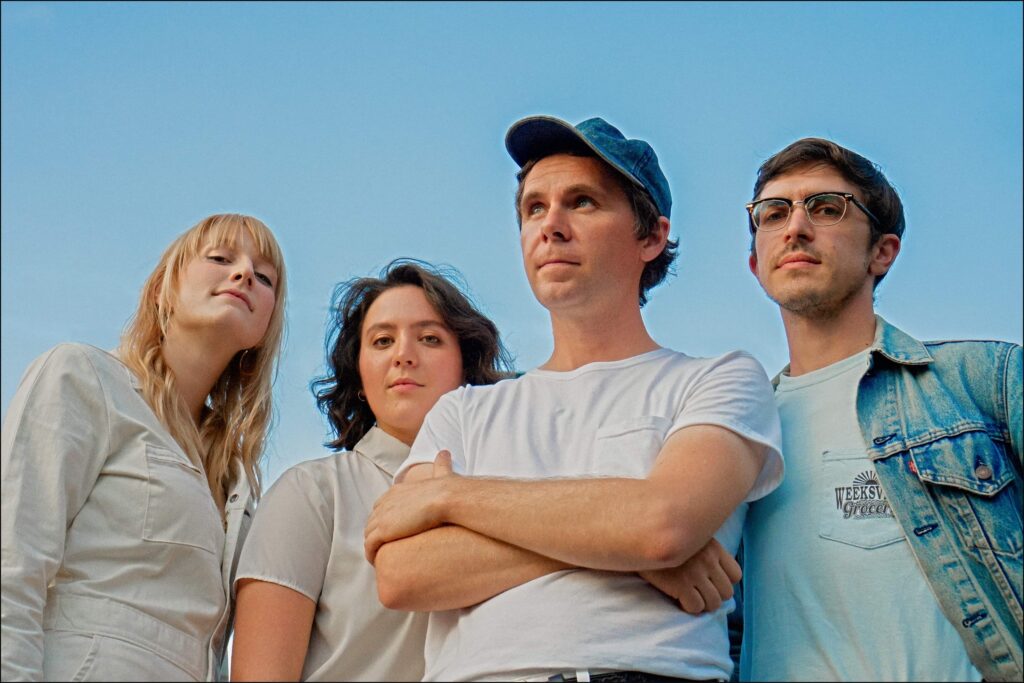 Bill And The Belles
"WHAT MAY BE THE MOST INNOVATIVE MODERN INTERPRETATION OF VINTAGE ROOTS MUSIC."
Bill and the Belles is a Johnson City, TN-based band known for combining a stringband format with their signature harmonies, candid songwriting, and pop sensibilities. Their delightfully deadpan new album, Happy Again, is full of life, humor, and tongue-in-cheek explorations of love and loss. Bill and the Belles is Kris Truelsen on guitar, fiddler Kalia Yeagle, banjo/banjo-uke player Aidan VanSuetendael, and bassist Andrew Small. The group has a knack for saying sad things with a bit of a smirk, and anyone who's been to one of their shows can attest that you leave feeling lighter and refreshed. This is a band that revels in the in-between: deeply engaged with the stringband tradition and eager to stretch those influences to a contemporary setting. A timeless place where Jimmie Rodgers and Phil Spector can overlap, and a driving fiddle and banjo tune makes way for a sentimental parlor song. And while Bill and the Belles' latest chapter offers a bigger, moodier, and more decade-ambiguous sound, they maintain their status as the most refreshing stringband around.
Dallas Wayne
A native of Springfield, Missouri, Dallas is a singer, songwriter, radio DJ, voice-over artist, actor and music producer. Dallas has performed throughout North America and Europe, releasing 13 albums of his own, and performing on various compilation and band recordings including the honky-tonk supergroups Heybale! and the TwangBangers, as well as a Grammy-nominated bluegrass album. He began performing professionally while in school before moving to Nashville, where he developed his vocal style singing demos for the top music publishing houses and started songwriting. While touring Europe in the early 90s, Dallas signed a record deal and soon moved to Scandinavia where he was a staff songwriter for Warner/Chappell Music. After four years living and touring in Europe, Dallas returned to the U.S. and signed with HighTone Records. Dallas can be heard six days a week on SiriusXM Radio: Monday through Friday from noon to 6 p.m. Eastern at Willie's Roadhouse (channel 59), Tuesday through Friday in Outlaw Country (channel 60) from 10 a.m. to noon Eastern, and Sunday from 10 a.m. to noon Eastern at Willie's Roadhouse. Dallas currently lives in Bristol TN/VA, the Birthplace of Country Music.
Redd Volkaert
Originally from Canada, Redd is widely regarded as one of the greatest guitar players in the modern era and is "among the country's top Telecaster guitar slingers. Particularly in the genres of Western Swing and Honky Tonk. He has been the go-to picker for Merle Haggard and has a history playing with the likes of Johnny Paycheck and George Jones. Redd can often be found on stage in the company of his fellow Telecaster stalwart Bill Kirchen formerly of Commander Cody and the Lost Planet Airmen. Together they are often referred to as the "Titans of the Telecaster" such is their ability and notoriety, love and connection with this particular instrument. Redd cut his teeth playing clubs 6 nights a week at 16 until the mid 1980's in Canada and moved to Los Angeles in 1986. There he worked clubs, private gigs at night and gave guitar lessons and recording during the day. Redd moved to Nashville in 1990 to play full time clubs seven nights a week on Broadway, Printers Alley and around town and 1 or 2 shifts a day between recording sessions most days, periodically traveling with road bands filling in as a substitute for guitarists in bands such as: Johnny Paycheck, George Jones, Statler Brothers, Rhonda Vincent etc. as well as on the Grand Ole Opry He joined Merle Haggard's band in '97 while continuing to record with other folks like Brad Paisley garnering a 2009 Grammy for Best Country Instrumental Performance. In 2000 Redd moved to Austin Texas where he held a residency at the Continental Club for 20 yrs with his own band on Saturday afternoons, and Sunday nights with Heybale! He continued to tour extensively with Merle as well as his own band in between tours. Redd relocated to SW Virginia in 2020 in time for Covid lockdown, recording and giving Skype lessons during that year and a half and has been back playing/ recording & traveling in the US and abroad as of May 2021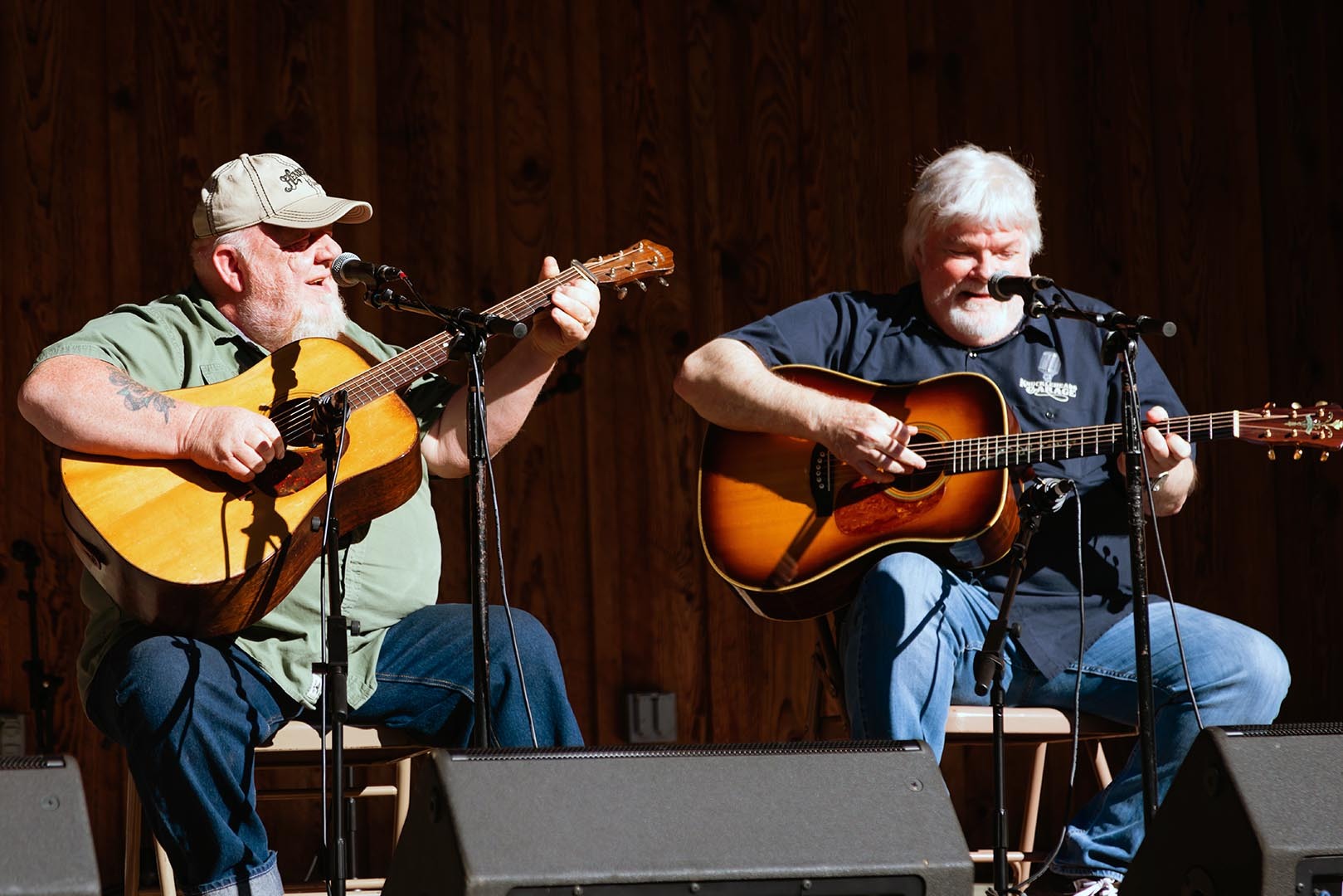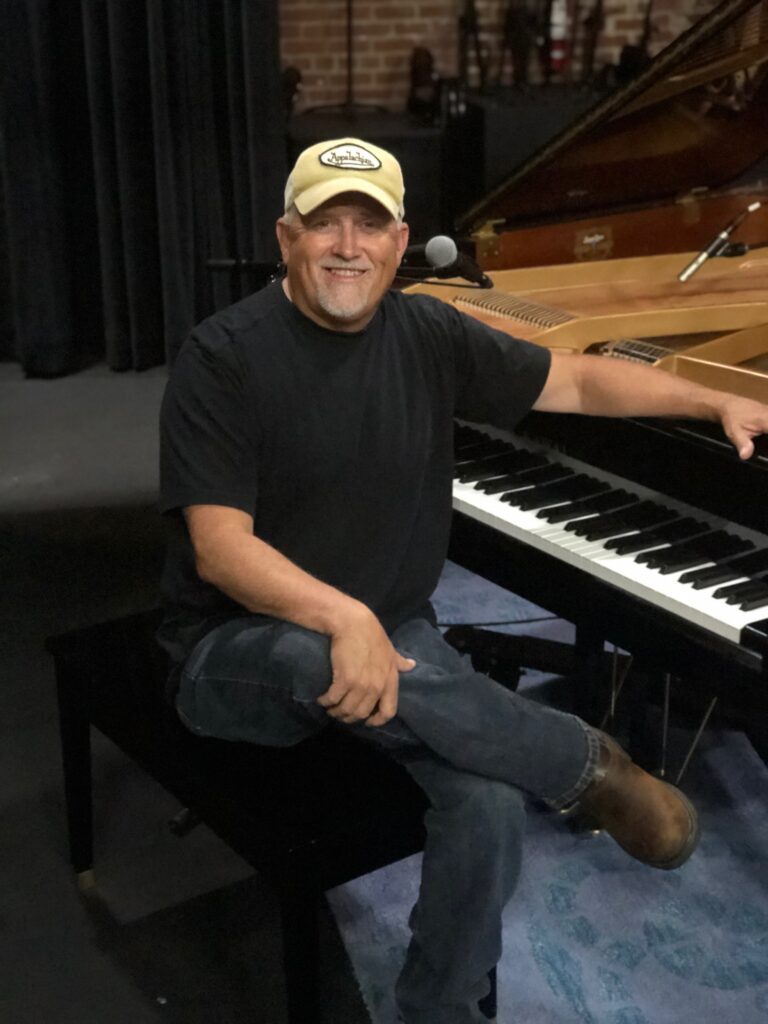 The Jeff Little Trio
"Jeff Little is a remarkable musician, steeped in the tradition of his native Blue Ridge, yet also a virtuosic and eclectic innovator."– National Public Radio
"Jeff Little tore the place apart with his wondrously quick and articulate piano style. He is always intelligent and richly melodic."-The Boston Globe
Jeff Little / Piano – Vocals – Harmonica
Jeff Little is an award-winning musician from the Blue Ridge Mountains of North Carolina. With few exceptions the piano does not play a prominent part in Americana or Appalachian music and is rarely the lead instrument. But Jeff Little is an exception and a remarkable one. Jeff has not only been recognized as a critically acclaimed musician but also a true music innovator.
Jeff as well as his trio stay busy traveling the country performing concerts with an energy and dedication to their music that is evident at every show. Performances include The Smithsonian Institution, The National Folk Festival, American Piano Masters, The Barns of Wolf Trap and many theatres, performing arts centers, and festivals. Jeff has been featured on National Public Radio and PBS many times and has also taken his music around the world for the US Bureau of Educational and Cultural Affairs performing in Sri Lanka, Bahrain, Oman, France and Tanzania. In 2014 Jeff was inducted into the Blue Ridge Music Hall of Fame. In addition, Jeff is Artist in Residence for the Popular Music Program at Catawba College in Salisbury, NC. 
Steve Lewis / Acoustic Guitar – Five String Banjo – Vocals
Steve Lewis is an award – winning guitar and banjo player from Todd NC and is one of the most respected acoustic musicians in the country. Steve is well known for his flat picking on guitar and his mastery of the five – string banjo. Steve has won many championships for his guitar and banjo playing. Some of the prestigious events include the Walnut Valley Nationals, Merlefest, the Galax Old Time Fiddlers Convention, Renofest and the Wayne Henderson Guitar Competition. Steve is also a two-time national champion on the banjo. He remains an in-demand guitar and banjo teacher and is dedicated to sharing his love of music with the next generation.
Luke Little / Mandolin
Luke Little is a young and talented mandolin player whose musicianship and style expand well beyond his years. Luke's performances include the National Folk Festival, PBS Song of the Mountains, The Richmond Folk Festival and The Moss Center for the Performing Arts at Virginia Tech.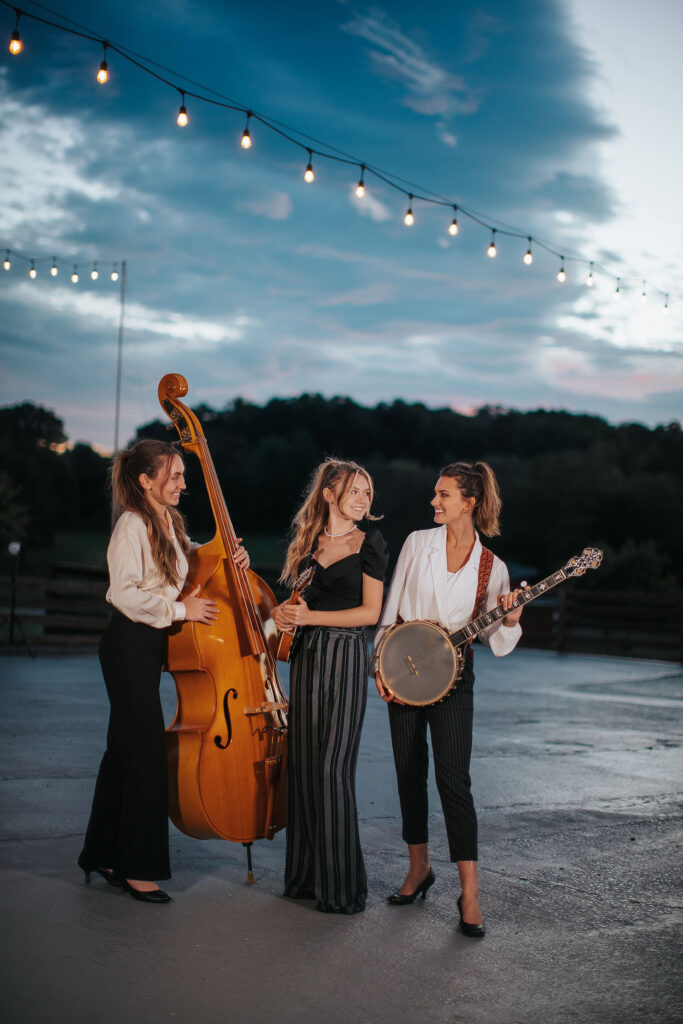 The Burnett Sisters Band
Bluegrass, old-time, and folk music lovers alike can't get enough of The Burnett Sisters Band, as siblings Anissa, Sophia, and Anneli and band mate Justin Alexander are all gifted multi-instrumentalists who are well-known and well-liked in the traditional music circuit across the United States. The band brings a youthful energy and modern flair to each performance, while remaining true to the traditional roots of the genre. Their on-stage chemistry is unmistakable – the type that only close siblings can have, evident in exchanged glances and spontaneous smiles – and their musicianship is undeniable.
For years The Burnett Sisters have dominated the regional competition circuit – from fiddler's conventions to music festival contests, these young ladies have proven their chops. It was no surprise to anyone that the band took home the top prize at the MerleFest Band Competition in 2022. On top of all that, these talented individuals also find time to keep traditional music ways alive and well as instructors for the Boone Junior Appalachian Musicians program.
To assign a genre to The Burnett Sisters Band would be to oversimplify the breadth of their musical influences – at a typical show, an old-time fiddle tune might be followed by a George Jones song, a driving bluegrass standard or a soaring gospel number. Having grown up competing in fiddle competitions and later forming a band when the youngest was six years old, the Burnett sisters have toured across the world and continue to share traditional music wherever they are able.
As the Bluegrass Standard noted, "With more than a decade of playing music, The Burnett Sisters Band brings their harmony to festivals and events across the United States… The North Carolina based group presents a unique blend of traditionally rooted music, influenced by bluegrass and classic country music greats alike".
With a repertoire that's equal parts old-time and bluegrass, country and gospel, this Billboard charting band dives into their material with attention to detail and an appreciation for nuance that lends an authenticity and a feeling of genuine expression rarely matched in today's traditional music.
The Sea Cruisers
Bringing the best sounds of the 50s, 60s and 70s to mid-Michigan for over 30 years, this professional four-piece band has something that appeals to everyone!  The band consists of Don Dove on drums and vocals, Ken Dove on guitar and vocals, Kerry Nicholoff on guitar and vocals, and Todd Young on bass and vocals.
Our rock & roll music will get you up out of your seat and dancing!  Even if you just sit and listen, you're in for a fun evening of classic oldies music.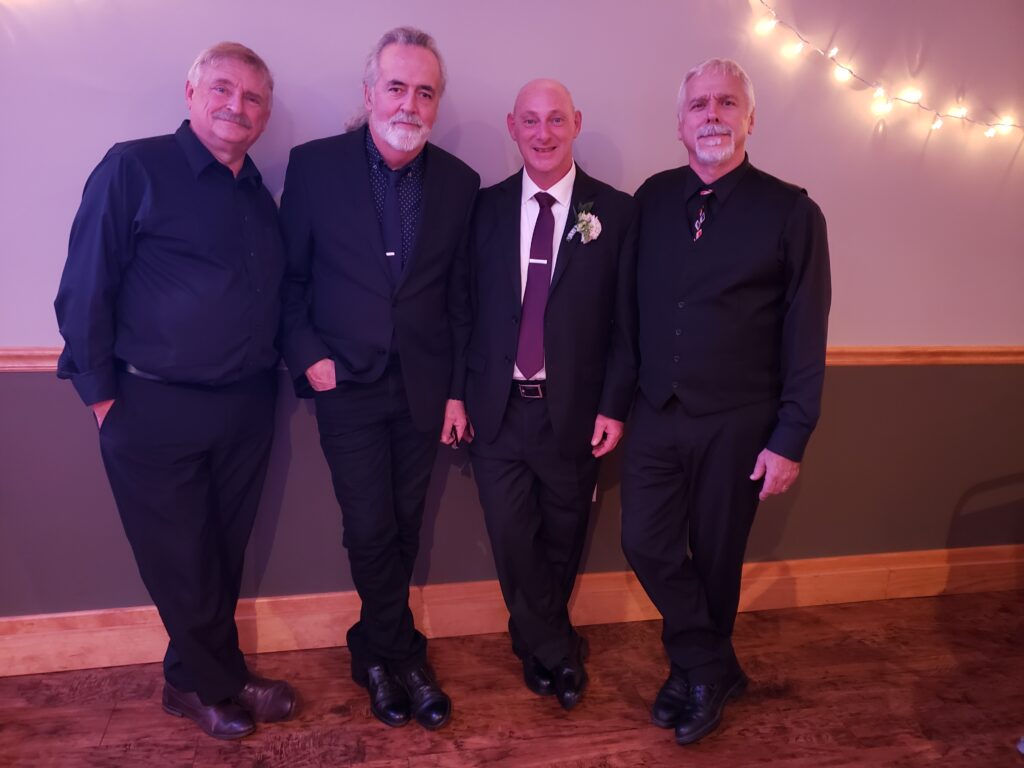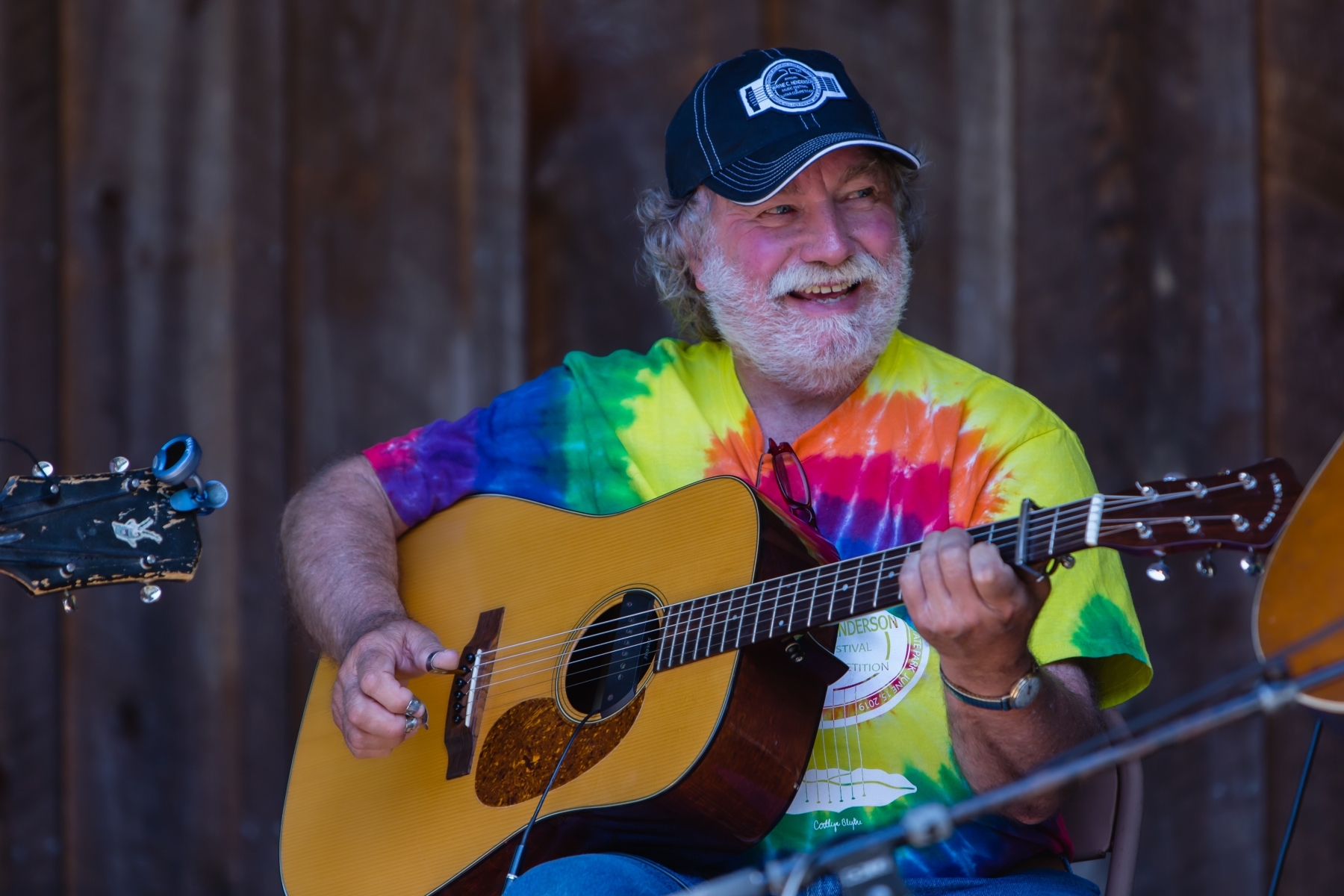 Wayne Henderson
Wayne Henderson's top-notch finger-picking is a source of great pleasure and pride to his friends, family and neighbors in Grayson County, Virginia. His guitar playing has also been enjoyed at Carnegie Hall, in three national tours of Masters of the Steel-String Guitar, and in seven nations in Asia.
In addition to his reputation as a guitarist, Henderson is a luthier of great renown. He is a recipient of a 1995 National Heritage Award presented by the National Endowment for the Arts. He produces about 20 instruments a year, mostly guitars; he is almost as well-known for the mandolins he has made. Good friend Doc Watson owned a Henderson mandolin. He said, "That Henderson mandolin is as good as any I've had my hands on. And that's saying a lot, because I've picked up some good ones."
Some of Henderson's instruments are intricately decorated but are most respected for their volume, tone, and resonance. Blues guitarist John Cephas said that Wayne Henderson "is probably the most masterful guitar maker in this whole United States." There is a waiting list for Henderson's guitars made up of the famous (and not-so-famous).
Above and beyond his great talents as a musician and luthier, Wayne Henderson is known as a "friend to everyone" and shares his talents and knowledge unselfishly.
The Wayne C. Henderson Music Festival and Guitar Competition was established in 1995 to express appreciation for this living legend. A portion of the proceeds from the Festival are placed into a scholarship fund to aid local young musicians in continuing their educations. Through the 2022 festival, scholarships awarded totaled $418,950.